Whether your training season is about to begin, your current shoes are wearing out, or you're just looking to spice things up, picking the right running shoe should be a well thought out decision. Most people just go to their local running shop or sporting store without doing any prior research, and pay the price later (whether it's in their wallet or in their feet). Some of the biggest factors to contemplate are:
How the shoe fits – wide vs. narrow, if it runs big or small, etc.
The Durability of the shoe – A good running shoe can take anywhere between 300 – 500 miles before having to be thrown away. (Depending on your weight and terrain you run on)
The price – This is an obvious one, you don't want to make a huge dent in your wallet, but you want a pair of shoes that fits your needs.
How your foot arches/lands when you run – You should know what kind of "pronator" you are or you could get seriously injured. Click Here to learn more about.
Customer Reviews – Make sure to get on the internet or ask around in the running community. Some shoe's have weird problems that you wouldn't normally think of.
The reason the shoe was made – You don't want to buy light shoes made for 200 repeats for marathon training.
How it looks – While this shouldn't be the biggest of factors, it should be something to take into consideration. Some people don't want neon pink and orange shoes.
Luckily for you, you're in the right place to find the best running shoes for your personal needs.. We have taken the guess work out of picking the right shoe.   Before you read the reviews, make sure to make a list of what you need. (eg: If you need training shoes for a marathon vs. 800m, what kind of foot you are, what your price range is) and then start browsing. Whether your ordering online or going into a store, make sure you have already narrowed your search down to 1-3 pairs so you are not overwhelmed. Enjoy.
---
 The #1 Best Insoles for Foot Pain
If you have plantar fasciitis, high arches, flat feet, or other foot support issues, but would rather not purchase a new pair of shoes – add the Tread Labs Stride Insole to your existing shoes. The Stride Insole is biomechanically designed to support your arch and cure/prevent plantar fasciitis. Simply remove the factory insole from your favorite shoes and replace it with the Stride. The Stride comes in four different arch heights for each foot size, offers a lifetime guaranteed arch support and has a removable top cover. Take the Tread Labs Fit Quiz now and get THE BEST possible support for your feet.
#1 Best Support - Tread Labs Stride Insole
THE BEST support to prevent/cure Plantar Fasciitis.
Lifetime Guaranteed Arch Support.
Replaceable Top-Cover
Free shipping both ways.
Read Why Stride Insoles are the Best
---
For more information on picking the right pair of shoes for your feet, you should read our fullHow to Choose Running Shoes Guide.
Our Editors Top Overall Running Shoe Picks
These are the shoes that our staff has selected as the best overall running shoes based on all of the properties listed above. Remember though, what is best for most might not be what's best for you.
---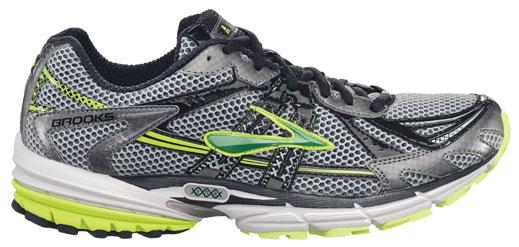 #1: The Brooks Ravenna 2
 Category: Stability
Overall Rating: 4.9 Stars Price: $100
Width: Fits normal Weight: 11.0 oz (Male) 9.3 oz (Female)    
Making it's second apperance on our list, Brooks comes in strong with its brand new model, the Ravenna 2. If you're looking for a shoe that is great for both long and short runs, this is the perfect shoe for you. The shoe's center of gravity is lower to the ground than most shoes we've talked about giving you a greater sense of stability. With just the right amount of cushioning on the heel, this shoe is perfect for any heel or midfoot striker. Ideal for low to mid arched runners, this shoe also boasts "Brooks DNA" which will mold to your foot's specific needs. (Scroll up to see a video on how Brooks DNA works). This shoe has a great balance of mesh and rubber which allows the shoe to breathe and stay nice and lightweight. For the overall quality we think the price is just right, and proves to be another steal produced by Brooks
---
#2: The Asics Gel-Pulse 3
Category: Neutral Cushioned Overall
Rating: 5 Stars
Price: $90 Width: Fits normal
Weight: 11.8 oz (Male) 9.8 oz (Female)  
Another solid shoe made by the running genius's over at Asics. Of all the shoe's we reviewed, this one has the perfect blend of cushion to weight. This shoe is very flexible, and can be used for any type of striker. (midfoot or heel) It also has added foam padding in the forefoot for a soft landing. This shoe has one of the best price's of any upper tier running shoe right now, (at 90$) and is well worth the money. The grip on the bottom of the shoe is said to be Asics best design yet, and will stop you from slipping in wet conditions. When pushing off of this shoe, the cushion was definitely noticeable, however, there was a minimal loss of energy which is a huge plus. If you are a runner who has nomial stability, I recommend this shoe for you as it will feel great even on those 8,10, and 12 mile runs.
---
#3: The Nike Lunar Glide
Category: Stability
Overall Rating: 4.8 Stars
Price: $90 – $100
Width: Fits Normal Weight: 11.0 oz (Male) 8.9 oz (Female)    
I have always been a sucker for Nike running shoes and probably always will be. In recent years they have produced the absolute best quality products from their racing spikes all the way to their training shoes, and the Lunar Glide + 2 is no exception. For those of you who are not familiar with Nike shoes, they use flywire technology which is extremely lightweight, extremely durable, material that puts these shoes on a different level. With Flywire lining, the sides of these shoe's create a very stable, form fitting model that any runner can appreciate. This also allows the rest of the shoe to be plush with cushioning and still maintain a normal overall weight. (which is exactly what this shoe does). The shoe is very versatile and whether you under or over-pronate, the cushioning in this shoe will provide you with the support you need. When pushing off from this shoe you will notice a spring like mechanism that propels you forward without additional energy loss. This shoe has been out for a while now so the price has dropped from the original and now sits at around $90 – $100. With a little bit of browsing however, you could definitely get them for less.
The Best Neutral Cushioned Running Shoe
---
The New Balance 880
4.7 Stars Price: $100
Width: Fits Normal
Weight: 10.8 oz (Male) 8.7 oz (Female)    
New balance has been known to drop the fancy names some other competitors put up and instead, put their creativity into the actual product. The New Balance 880 has just the right level of comfortability for the price and durability range. An update from the 879, the difference's can be seen in the midsole and outsole, which are now almost exactly the same. (making for a strong and balanced run). This shoe also now has more mesh, which makes for better ventilation and breathability. With a nicely cushioned upper and thick midsole, this shoe is ideal for heavier runners trying to get good durability from their shoe. Customer reviews say that this shoe makes for a nice, snug fit which is ideal for keeping your feet blister free on hot days. Like I said before, the price point is in a good range compared to some other "high end" models that won't give you half of what this shoe can.
---
The Asics Gel-Nimbus 13
Category: Neutral
Overall Rating: 4.5 Stars
Price: $130 Width: Fits Wide
Weight: 11.7 oz (Male) 9.4 oz (Female)    
For runners looking to make a longer term investment, the Asics Gel-Nimbus 13 is the way to go. This shoe has the most comfortable interior of any shoe I have tested this far. Wrapped in layers of foam padding and gel, this shoe provides amazing impact protection as well as support to all parts of the foot. On top of all that, this model has an amazing weight to cushioning ratio. At only 11.7 oz for guys and 9.4 oz for girls, this shoe can compete with any other high end neutral cushioned shoe. However, my mom always said that you get what you pay for, and this is most certainly the case. This shoe is on the higher end of the price spectrum at $130. But remember, you are paying for quality. The weight, amount of cushioning, and durability can't be beat in this shoe and will last you longer than other models. If you have the money to shell out, I highly recommend this shoe. However, because of the high price point I have to knock it down a few points on the overall rating.
---
The Brooks Glycerin 9
Category: Neutral
Overall Rating: 4.8 Stars
Price: $130 Width: Fits normal
Weight: 11.7 oz (Male) 9.4 oz (Female)
An update from the acclaimed Glyerin 8, the Brooks Glycerin 9 boasts everything the old model did with all the kinks worked out. For those of you who are not familiar with Brook's shoes, they boast their revolutionary technology, "Brooks DNA" Essentially, this new technology is a type of gel that resists impact force, yet is fluid like, and molds to your exact needs. The video below can give you a better explanation on how it works:
The technology basically claims it "gives the runner soft comfort when they want it, and firm support when they need it."
This technology makes this shoe great for any type of pronator. If you have a normal to high arch, this shoe will fit perfectly and make those persky long runs nice and comfortable. More specifically to this shoe, Brooks now has added their "Omega Flex Grooves" which enhance flexability and gait ability. Aside from all of the hype and new technology, this shoe has great durability and is well cushioned. A great shoe whether your going on a jog in the park or a 10 mile tempo. At $130 it is definitely pricey, but just like the Gel-Nimbus, you get what you pay for. This is a well built, comfortable shoe.
The Best Stability Based Running Shoe
Sometimes you want running shoes that have a more stable base. We've selected our top picks for the best running shoes that offer the most stability.
---
Adidas Supernova Sequence 3
Category: Stability
Overall Rating: 5 Stars
Price: $100 Width: Fits normal
Weight: 13.0 oz (Male) 10.0 oz (Female)  
While Adidas isn't exactly a powerhouse in the competitve running scene, in the past few years they have seriously stepped up their game. Currently, the Supernova Sequence 3 has the best stability of any shoe on the market. If you have an over-pronation I highly recommend this, as it has a strong stability unit in the heel and solid counter pressure throughout. The price point (in my opinion) is perfect right at 100$, and with a coupon or ordered online you could definitely get it lower. While it is definitely heavier than most shoes on the market, 13.0 oz and 10.0 oz aren't exactly bricks tied to your feet. From customer reviews, many of the users said the weight of this shoe was not an issue, and the amount of support easily outweighed the weight. (no pun intended). However, that being said, if you are looking for a lighter shoe I would not pick the adidas supernova sequence 3.
---
Reebok Premier Road Supreme 2
Category: Stability
Overall Rating: 4.6 Stars
Price: $100 Width: Fits normal
Weight: 11.2 oz (Male) 9.5 oz (Female)  
With a bunch of new additions to its product line aimed at competitive running, Reebok makes our list with its Premier Road Supreme 2. This shoe proved to be very versatile and perfect for the recreational weekend runner or a seasoned racer. It has a nicely rounded heel which allows for light landings and prevents against heel injury. Great for runners with no pronation or a mild over-pronation this shoe has a plastic midfoot insert that provides great support. The bottom of the shoe blends rubber and plastic to make for a nice grip on any terrain or hill. This is one of the most breathable shoe's we've reviewed and for anyone running primarily on concrete I would definitely take a look at this shoe. While this shoe doesn't have the type of impact response you'll see in the Lunar Glide, it is a well balanced mid ranged shoe at an affordable price.
---
The Saucony ProGrid Kinvara 2
Stability Overall Rating: 4.7
Stars Price: $90
Width: Fits normal
Weight: 7.7 oz (Male) 6.7 oz (Female)  
Saucony blew us out of the water with the Progrid Kinvara 2. This shoe is the lightest on the market for a long distance training shoe. However, it does not sacrafice stability or versatility. Lets start off by talking about it's heel-toe ratio which is the best in the whole industry. In most shoes, the heel sits at 35 millimeters above the ground, in the Kinvara 2 it sits about 20 millimeters off the ground. This will better flow with your natural stride and help the flow of energy forward. Since this shoe is so light, it has the feel of a racing shoe, but allows for longer runs. Because it is so light, we recommend it for lighter runners. While the durability/cushioning takes a small hit because of the weight, it is still an absolutely stellar model. For only $90 it was awarded RunnersWorld magazines overall best buy award.
Honorable Mention
Here are some shoes that didn't quite make the list but should definitely not be looked over.  
---
K Swiss Kwicky Blade Light
Category: Neutral
Overall Rating: 4.3 Stars
Price: $130 Width: Fits normal
Weight: 9.0 oz (Male) 8.0 oz (Female)
K swiss isn't really known for their running shoes, but this model proved that they were a force to be reckoned with. For a heavier runner this could certainly be a great race day shoe, and for some mid weight runners this is an ideal training shoe. This shoe is extremely breathable and does not allow any water in.
13071
Related posts: